Overview
Two designers, a Home Décor sprayer, and a basic box store side table looking for its own unique personality. Let the spray down begin.
---
Cathe Holden's Cigar Box Side Table
Lifestyle maven of the Inspired Barn in Petalum, California, Cathe was inspired by the wood grain drawers of the side table stand and instantly thought of old cigar boxes. She began by spraying the base of the unit leather brown and then applied decoupaged cigar box details with mod podge and the Furno Heat Gun.
Step #1
Tape
Tape off the drawers with painter's tape.
Step #2
Spray
Fill the Home Décor Sprayer with latex paint and spray exposed wood.
Step #3
Decoupage Drawer Fronts
Dip the cut cigar box printables in Mod Podge and apply them to the front of the drawers. Wipe over the decoupage with a damp sponge to remove any wrinkles.
Step #4
Dry Decoupage
Use the FURNO Heat Gun to dry the decoupage. With the heat gun on a low setting, wave it over the design until dry.
Step #5
Cathe's Finished Design
Rich and dark with a sense of vintage is a great way to describe Cathe Holden's completed cigar box side table. The Wagner Home Decor Sprayer and Wagner FURNO Heat Gun made it all easy and doable.
Step #6
Debra Norton's Emerald Side Table
Maker, blogger, and DIY columnist for the Toronto Star app Star Touch, Debra instantly thought of the trendy color emerald green with a shiny lacquer. She began by using painter's tape to mask some of the wood finish to create graphic contrast on the legs and then loaded the sprayer with high gloss latex paint. A paint sprayer is the perfect way to mimic a lacquer finish, as it never has brush marks.
For Debra, color inspiration leads the transformation. "I crave the freshness of green, especially during winter's darker days. The Home Décor sprayer makes it all possible."
Step #7
Mask and Spray Wood
Mask the bottom 3-4 inches of each table leg with painter's tape. Fill the Home Décor sprayer with latex paint and spray all of the exposed wood.
Step #8
Remove Tape
Allow paint to dry, then remove the painter's tape to expose the unpainted feet.
Step #9
---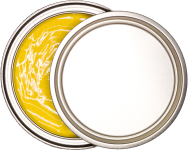 Download Project Steps & Shopping List
We'll never share your email with anyone else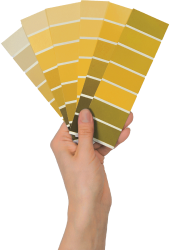 ---
Products Used
---