Overview
If you have an upcoming painting or staining project planned you might be asking yourself how to paint your project, what's the best way to paint the project, and if a paint sprayer should be used. In this article we'll walk through what is a paint sprayer, when should you use a sprayer, the different types of paint sprayers, and the features to consider when purchasing so you can set yourself up for success.
What is a Paint Sprayer?
Paint sprayers can often be used in place of paint brushes, paint rollers, or spray cans to quickly apply paint or stain to a surface with a consistent finish. Unlike these other tools, paint sprayers use electricity, gas, an air compressor or battery power to run. Paint is generally added to the sprayer container or pulled directly from the paint can and then sprayed out of the nozzle or tip. There are a wide range of sprayers which vary in power level, adjustability, price and intended use.
What are the Different Types of Sprayers?
There are several different types of sprayers and it's important to select the right kind for your intended project. The three common types of sprayers include:
Airless
High Volume Low Pressure (HVLP)
Pneumatic sprayers
Each sprayer will vary on the types of materials it can use and its intended projects so it's important to read the product details for each sprayer.
Great for small to medium sized projects. They use high volume, low pressure technology to atomize materials into fine particles and provide a smooth, professional quality finish on your projects. There is a wide selection of these sprayers which vary in price, adjustability, ease of use and power level.
Projects: Small to Medium
Small decks
Rooms
Furniture
Cabinets
Trim
Crafts
Décor
Great for medium to large sized projects. They work by pumping out paint through a pressurized hose and fanning miniscule droplets to evenly coat the surface. Airless sprayers are generally more powerful to handle thicker paints/primers and spray faster with more gallons per minute than other sprayers to help get large projects completed quickly.
Projects: Medium to Large
Home exterior
Fence
Deck
Barn
Interior walls and ceilings
Unfinished rooms
Pneumatic Air Sprayers:
Great for small to medium sized projects. They use compressed air to apply paint to a surface, producing a smooth, even finish. Unlike airless or HVLP sprayers, these sprayers require a separate air compressor.
Projects: Small to Medium
Furniture
Cabinets
Trim
Automotive
What Sprayers Does Wagner Offer?
Wagner offers several different sprayer models to suit your project needs. These include:
Control QX Series: These HVLP stain sprayers are perfect for applying a fresh coat of stain on small to medium sized decks, fences or patio furniture.
FLEXiO Series: These HVLP paint and stain sprayers are great for spraying small to medium sized decks, furniture, cabinets, sheds, or even interior walls.
High Efficiency Airless Series: These Control Pro High Efficiency Airless Sprayers are ideal for tackling large projects with unthinned paint or stain. They cover large areas quickly with 55% less overspray compared to other airless sprayers.
When Should I Use a Paint Sprayer?
A paint sprayer is versatile and can often be used for a wide variety of projects depending on the capability of the sprayer that you choose. A few project examples might include…
Interior/Exterior Spaces
Accomplish big projects quickly in a fraction of the time
Home Exterior
Large buildings
Fences
Decks
Room makeovers
Walls
Ceilings
Furniture
Achieve a nice, smooth surface without brush or roller marks
Kitchen tables and chairs
Outdoor patio sets
Dressers
Bed frame
Buffets
Hutches
Lamps and décor
Spindles
Curvy and/or intricate pieces
Woodworking
Take your woodworking projects to the next level
Cabinets
Trim
Molding
Intricate woodworking projects
Handmade DIY's
What Features Should I Consider When Purchasing a Sprayer?
Each sprayer will offer unique features and benefits. Start by reading the product information when selecting a sprayer or use our product selector to see which features it offers and determine which features are necessary for your project needs. Here are a few important features to consider…
Adjustable Models
Sprayers can offer adjustable settings to suit project size, material compatibility, and spraying speed. Some of these settings include:
Flow control: How much paint you want to come out of the spray nozzle
Pattern control: The shape of the spray pattern. Typically vertical, horizontal and/or circular
Pump or turbine speed: Controls how fast the coating is supplied to the spray nozzle
Interchangeable spray tips (for airless sprayers): For different coatings and/or increased productivity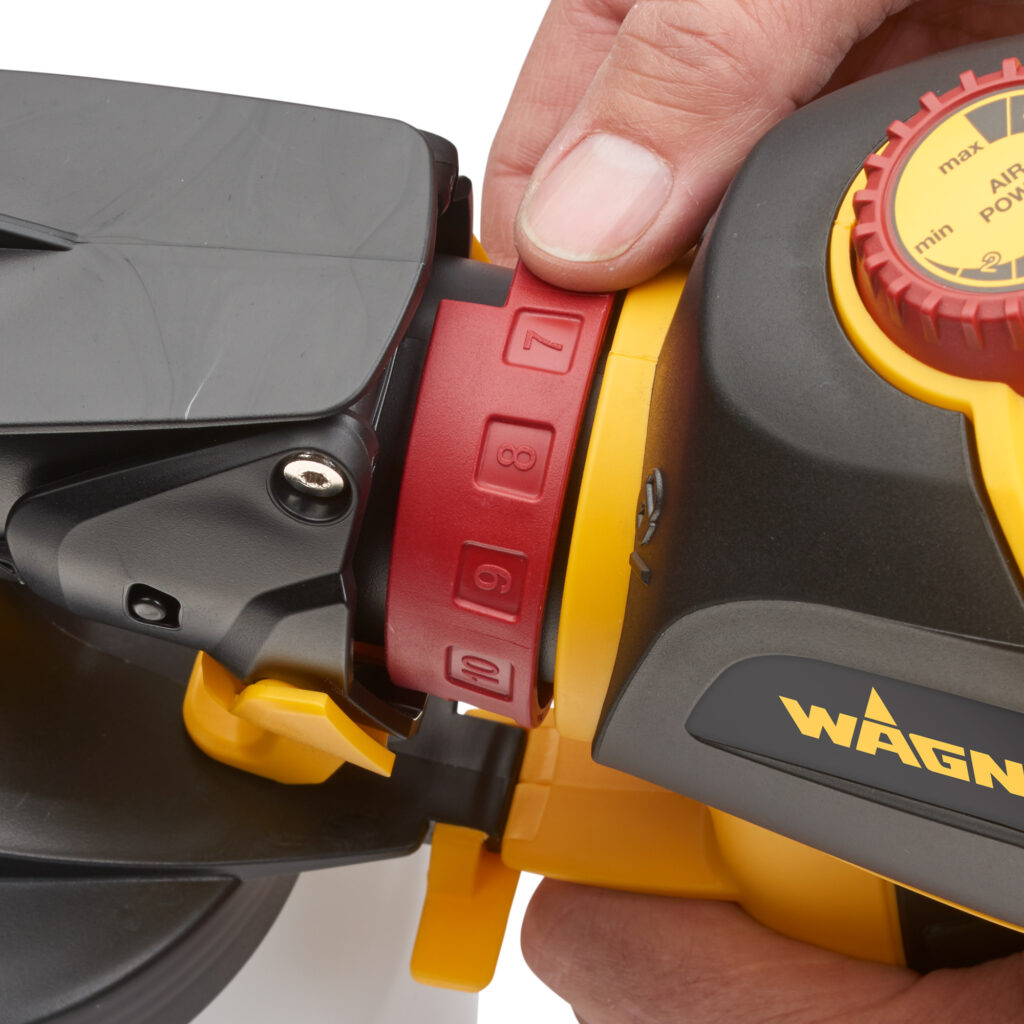 Power Level
Sprayers have varying power levels which will allow them to spray thicker/thinner materials at different rates of speed.
Power Option
Paint sprayers can be powered in different ways, including: Cordless/battery, Electric and Gas.
Style of Sprayer
Direct feed: Pulls material directly from a 1 or 5 gallon paint container
Pressure fed cup: Pulls paint from a cup attached to the sprayer
Hopper: Paint is poured into the sprayer hopper, which is then pulled through the hose to the gun
Portability
Depending on your project, you might want the weight of the sprayer on the ground, in your hand, or on wheels.
Stationary Sprayers: Turbine remains on the ground and is connected to a hose with the spray cup or spray gun
Handheld Sprayers: Turbine and sprayer are connected and in your hand
Cart Design: Sprayer is on wheels and portable to easily move from job to job
Cleaning
Finally, all sprayers will need to be cleaned after use. Some are more complex than others depending on the amount of parts that need to be cleaned.