Overview
Looking for a tool to help make every painting job easier? Wagner has you covered. Painting a room can often feel like a much more difficult job than it actually is, but with Wagner's EZ Roller, it's genuinely a breeze. It's the perfect painting tool for any space, but it's especially great in small rooms that aren't really big enough to break out the powered roller or the paint sprayer for! Here's a look at how I used my Wagner EZ Roller to paint our powder room, and how it made things so much simpler.
Before
After
---
Instructions
Step 1
My powder room hadn't been touched since we moved into our house, and it was past due for a quick makeover. I wanted to give it a new look but I didn't want to spend a ton of time or money. A fresh coat of paint goes a long way, so I decided to start there. I used my EZ Roller to get it done, and in just a few hours the space had been completely transformed.

Wagner's Paintstick EZ Roller can hold up to 22 oz. of paint in the handle, and it completely eliminates the need for a paint tray. Simply load up the handle and you're good to go! You can load your roller cover up with paint by pulling the trigger, and it automatically provides really smooth and even coverage that will make your paint job go so much faster.
Step 1
Step 2
Another benefit of the Painstick EZ Roller is that it has a long handle that makes it really easy to reach high up on the walls, and even on the ceiling. When you're working on a small space like this, painting the ceiling makes a big difference and can make tiny rooms feel much larger! The only problem? Painting ceiling can be backbreaking work if you're constantly getting up and down a ladder to reload your roller. But, with the EZ Roller you can paint for a long time without getting down to reload!
Step 2
Step 3
Clean-up is super simple on the EZ Roller too. Simply fill a bucket with soapy water and pump it through the handle of the EZ Roller. You'll repeat this as you disassemble the roller for future use, and when you're done it'll be clean and ready for storage. It takes no more than 10 minutes to clean, and will quickly become your favorite painting tool for just about any job.
Step 3
Step 4
Getting a fresh coat of paint on your walls makes the biggest difference in how a space feels. Going from plain white to a rich, cozy color can create an entirely different feel for a room on a really small budget. The EZ Roller will make any painting job feel much easier, and can cut down your painting time by a lot!
I'm so glad I decided to take the time to give our powder room a refresh, and getting this project done has really inspired me to do a few other things here too!

This sponsored post was created by Love and Renovation
Step 4
---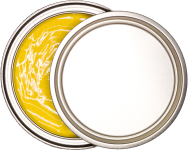 Download Project Steps & Shopping List
We'll never share your email with anyone else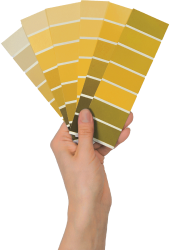 ---
Products Used
$34.99
---