Overview
A simple color change can have a dramatic effect on any room! Using a high-quality paint roller is a fast and easy way to get the job done (and have fun in the process). With a PaintStick EZ Roller from Wagner, you'll get great results with less mess than a traditional paint roller.
Before
After
---
Instructions
GATHER YOUR MATERIALS
Start by gathering your materials. You'll need the Wagner PaintStick EZ Roller, enough paint for two coats, painters tape to protect the trim and edges of the ceiling, drop cloths to protect the floor and any furniture in the room, and a paint brush for "cutting in" around trim and in corners. It's also a good idea to have some cotton rags on hand for cleaning up any messes.
Step 1
Prep Your Space and Walls
The key to any good paint job is prep. Make sure you spackle any holes in your walls and prime or scuff-sand if painting over glossy paint so that the new paint will stick better.

We also recommend vacuuming any dust and cobwebs with a shop vacuum and washing any grease or other residue off the walls with a suitable detergent mixed with water.

If you're only painting the walls (not the ceiling) you should also apply masking tape around the perimeter of the ceiling and the trim.
Step 2
Cut in Around the Room
Start by "cutting in" around the perimeter of the room near the ceiling and around all of the trim. A three-inch wide angled brush works really great for this because it keeps your wrist in a more comfortable position than a straight brush.
Step 3
Paint the Room
Once you're done cutting in, it's time to roll paint onto the walls. The PaintStick EZ Roller is a snap to use because it pulls paint directly from the can and stores it in the handle, eliminating the need for messy roller trays.

Draw paint into the EZ Roller and then squeeze the trigger until paint starts to saturate the roller cover. Then roll paint onto the walls, making sure you roll into the areas where you cut in with a brush. Refer to your paint can's instructions for drying times and apply a second coat as needed.
Step 4
Enjoy the Newly Painted Room
Step back and marvel at your freshly painted room! We hope you enjoyed this tutorial on how to paint a room and how you can use the PaintStick EZ Roller to get the job done quickly.
Step 5
---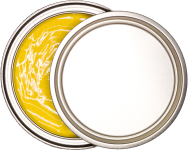 Download Project Steps & Shopping List
We'll never share your email with anyone else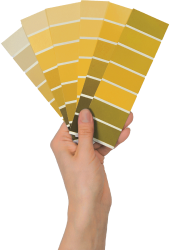 ---
Products Used
$34.99
---