Overview
Accent walls are a quick, easy, and beautiful way to update a room in your home. They're a great way to try out a new wall color without committing to the entire room, and with a little bit of trim they can become a show-stopping addition to your space!
Before
After
---
Grab Your Roller
Today I'm going to show you how I made this beautiful grid accent wall with about $50 in trim and my trusty Wagner SMART Sidekick Power Roller!
Step #1
Install the Accent Wall

To make a grid accent wall, start by installing trim pieces all along the outer edges of your walls (on both sides, the top, and bottom). Then, determine the size and spacing for all of your boxes – see my blog post, linked below, for a detailed tutorial on how to do this math!
Once you've got the outer pieces installed, add vertical pieces along the walls, spaced for the width of your boxes. If you're working with MDF, as I was here, you don't need to worry about construction adhesive – just use 18-gauge nails and a power nailer, and it should hold great!
Step #2
Add Spacers

Once all of your vertical pieces are installed, you can go back and add spacers in-between each one to create your squares! I recommend using a scrap piece of wood as a spacer to help you make sure to space them consistently throughout the wall.
Once the trim has all been installed, go along all of the seams (at the corners of your squares or where two pieces of trim meet each other) and add wood filler. You should also caulk at every spot where the trim meets the wall – not only will it give you a far more polished look, it'll also help ensure the wood stays in place over time!
Step #3
Paint the Wall

Once everything is dry and you've sanded off the excess, it's time for paint!
I used my Wagner SMART Sidekick Power Roller for this project, as I do for almost all of my painting projects. It's easy to use and makes every paint job go so much faster. I was able to paint all of the insides of the boxes, plus the face of the trim with my SMART Sidekick, then I just went back in and did the seams with a paintbrush!
Step #4
Enjoy the Accent Wall

Of course, another option is also to paint the entire wall with your SMART Sidekick before installing the trim, and using a sprayer to paint the trim separately (I did that with this project!), but for a single wall like this, I found it to be just as fast to paint the whole thing with my Sidekick.
After two good coats of paint, you'll have a beautiful accent wall that will totally transform the look of your room!
This sponsored post was created by Love and Renovations. Head to the blog for the full post and details.
Step #5
---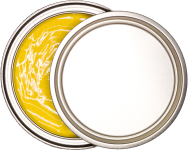 Download Project Steps & Shopping List
We'll never share your email with anyone else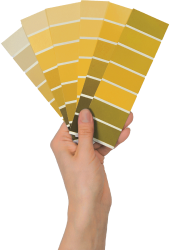 ---
Products Used
---