Overview
There are so many things to check off your list when preparing for a new baby and one of the most fun projects is preparing and decorating the nursery! We transformed this plain room into a fun, nature themed nursery that's perfect for a newborn baby girl or baby boy. We got the job done quickly with less mess by using the Wagner PaintStick EZ Roller.
Before
After
---
Instructions
Prepare the Room
Start by preparing your room for paint. This will include removing all the outlet covers, vents and décor from the walls. It's also important to tape off any areas you don't want painted and wipe down the walls to make sure they're clean. You should also use paint to cut in around the room and sharp corners or trim.

In this case, the room is in the upstairs loft of the home and has a slanted ceiling. For that reason, we chose to only paint the lower portion of the walls and skip painting the ceiling.
Step 1
Grab a PaintStick EZ Roller
The Wagner PaintStick EZ Roller eliminates the need for messy roller trays by holding up to 22 oz. of paint directly in the handle, which means no need for messy roller trays! It's great for painting walls and ceilings 2X faster than a manual roller and with less mess.
Step 2
Draw Paint Into Your PaintStick EZ Roller
To draw paint into the EZ Roller, simply attach the fill tube to your paint can and then push the EZ Roller down onto the fill tube. Pull back on the plunger and watch as paint fills the handle!

To stick with the nature theme, we used Glidden Premium Interior Paint and Primer in the color "French Market". The room has a beautiful wooden accent wall on one end of the room and all of the furniture has wooden tones to really tie everything together!
Step 3
Push Paint Into the Roller Head
To start painting, simply squeeze the ratchet trigger on the PaintStick EZ Roller handle. This will swiftly push paint to the roller head and fill it with paint! The roller cover is saturated from the inside-out, which helps reduce any drips and mess!
Step 4
Start Painting
Now it's time to paint! We were able to paint the nursery so quickly thanks to the EZ Roller and actually had fun in the process! We finished painting this room in just one day by painting one coat in the morning, waiting a few hours to dry and then applied a second coat.
Step 5
Enjoy the Room
Now we have a gorgeous nursery that's perfect for a baby boy or baby girl! To make the room even more nature themed, we hung up a vine/floral wallpaper on one end of the room to create a safari inspired accent wall. We can't wait for little baby giggles to fill the room!
Step 6
---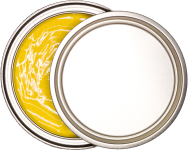 Download Project Steps & Shopping List
We'll never share your email with anyone else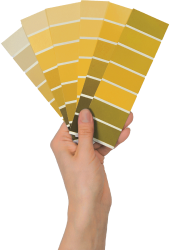 ---
Products Used
---