Overview
This vintage desk was way too hip for the landfill. With the Wagner Home Decor Sprayer, the transformation is simple and striking.
---
Sand desk and spray base
First, we sanded the desk and applied a glossy black latex to the base. The shine really shows off the graphic quality of the drawer fronts.
Step #1
Prepare paint for desktop
Wanting to create a contrast for the top of the desk and add a modern appeal, we decided that a dusty faux soapstone surface would be the perfect compliment. Mix 2 cups of flat black latex paint with 2 cups of Saltwash additive. Add 3 tablespoons of water and mix thoroughly.
Step #2
Mask off desk and spray desktop

Cover the bottom portion of the desk with masking tape and paper.
Spray the desk top liberally and let dry. The saltwash medium will rise up through the paint and dry.
Step #3
Sand desk surface and protect with glass
Sand lightly with #0000 steel wool. For ultimate protection, cover the top with clear glass. Dust surface lightly only and place drinking glasses on coasters.
Step #4
Makeover magic complete

Abracadabra – the transformation is complete!
We created a beautiful, faux, black lacquer look with glossy black paint and a striking desk surface complete with a sandstone finish; all applied with the Home Decor sprayer. Lacquer is known for a high sheen and no brush marks, which makes this treatment spot on.
Step #5
---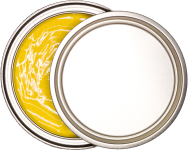 Download Project Steps & Shopping List
We'll never share your email with anyone else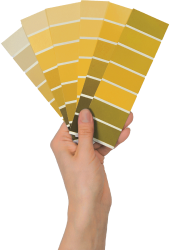 ---
Products Used
---