Overview
Are you looking to paint a room in your home quickly and easily? Learn how to use the Wagner FLEXiO 5000 paint sprayer for walls and how knock your room out in under an hour!
Before
After
---
Instructions
Prepare the Room for Paint
Start by cleaning the room. Clear as much of the furniture and belongings as you can. Give the room a quick cleaning by sweeping and dusting – this includes the walls and baseboards!
Step 1
Tape Off the Room
Just like if you using a brush and roller, you want to tape off where you do not want paint! Because you will be spraying the paint on, you also want to cover the floors, windows, and doors to protect from overspray. Tape off your ceiling as well and cover at least 24 inches in.
Step 2
Load the Paint
Pour paint directly into the canister! No need to thin latex paint! To help with cleanup, you can use a spray cup liner.
Step 3
Assemble the FLEXiO 5000
To assemble, first remove the air hose from the storage case and plug in on the front of the case.
Step 4
Assemble the Nozzle
Insert the paint pickup tube into the intake opening on the nozzle. Carefully reassemble by screwing the cup back on and tighten firmly. Once reassembled, screw the nozzle into the handle.
Step 5
Adjust the Power and Material Controls
Since we are using paint straight from the can (unthinned) we need to set the X-Boost™ power dial (adjusts the level of air pressure produced by the turbine) at a high setting. Next, adjust the material flow (the amount of paint that being sprayed from the gun).
Step 6
Adjust Spray Pattern
Depending if spraying vertically or horizontally, turn the cap on the front of the gun. The gun also has a spray width lever to adjust the width.
Step 7
Turn on and Practice
Turn the power on the Power Box ON then turn the power switch on the handle ON. Use the included spray poster for practice!
Step 8
Paint Your Walls!
Paint by keeping the nozzle 6-8 inches from the wall. Move at the same speed and keep the nozzle the same distance from the wall. Start just past where your wall starts, so either on the floor or ceiling. Move straight up and down then overlap the next pass by at least 50%. This will ensure you get full coverage painting the wall!

This sponsored post was created by Amber Oliver. Head to the blog for the full post and details.
Step 9
---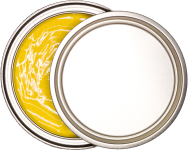 Download Project Steps & Shopping List
We'll never share your email with anyone else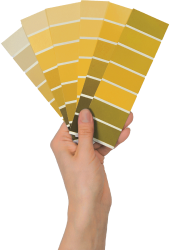 ---
Products Used
---