Features & Details
Features
212°F (100°C) chemical-free steam cleans surfaces, loosens and dissolves grease, dirt and grime
18 included accessories and nozzles to help clean countless areas
Included wallpaper steam plate strips wallpaper without the need of chemicals
8 ft. steam hose provides great length for hard to reach areas and floors
Versatile, multipurpose steamer reaches up to 212°F (100°C) to clean your household surfaces
Holds up to 40 oz. of water and heats up in under 9 minutes
Up to 40 continuous minutes of cleaning power
Built-in storage compartment for nozzles
Details
The Wagner 915e Power Steamer is a multipurpose, chemical-free steam cleaner that can be used to clean countless areas around your home, including bathrooms, kitchens, floors and more! It also includes a wallpaper attachment to easily strip wallpaper with no harsh chemicals needed.
The steamer comes with 18 accessories and attachments to help tackle nearly any cleaning task. From countertops to toilets, and from grills to tile grout, this steamer does it all.
Just add distilled water to this steamer for safe, chemical-free cleaning. This is great for homes with kids, pets, and those sensitive to harsh cleaning agents.
Product Walkaround
Accessory Guide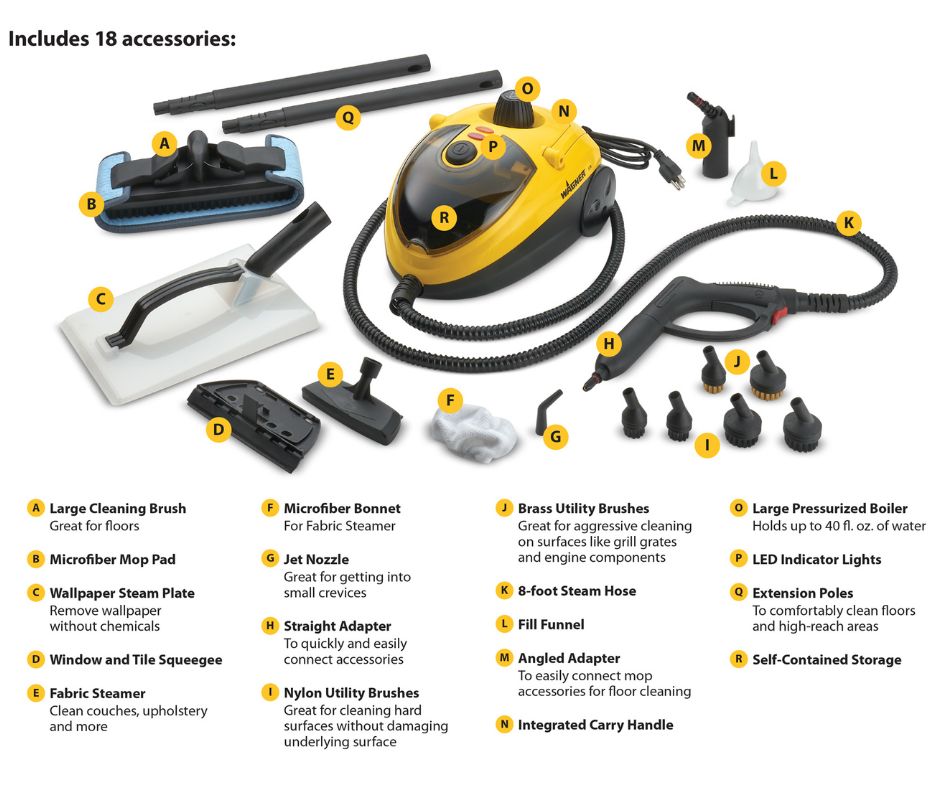 Accessories
---
Product Support
Get all the product support including how-to & troubleshooting videos, recommended settings & more
Warranty
Need warranty information for your product.
Register Your Product
Register your product and get an extra 6 months of warranty