Overview
Ironing curtains is a long and tedious job. Fortunately, there is a MUCH easier way to remove wrinkles from your curtains without spending hours over the ironing board. Which is great because nobody has time for that!
---
Wash your curtains and notice the wrinkles

Whenever I buy new curtains, I always wash them first to be sure they're clean (especially important these days), but also because sometimes they'll shrink. I will account for that expected shrinkage when measuring and buying cotton curtains. The downside to washing them first is that they usually come out very wrinkled.
Once the curtains are out of the dryer, I immediately hang them up. Then I set up my Wagner 915e Power Steamer. This steamer is great, it's a compact size that doesn't take up too much storage space. Another feature I love is the built-in storage for the attachments.
Step #1
Add distilled water to steamer and turn on

I only use distilled water in my steamer. One, because it's better for the machine. Secondly, sometimes tap water has minerals in it that can actually stain fabric. Using about 40 ounces of water will get you about 40 minutes of steaming time.
After I added the water, I turned the unit on. Both indicator lights will go on right away, the orange indicator light will shut off when the unit is ready to steam. That usually takes between 5-10 minutes. Occasionally the orange light will come on again during use. This indicates that the unit needs a minute to build the pressure back up. This is MUCH quicker than the initial wait time.
For the curtains, I used the squeegee attachment. This particular attachment is also used for fabric steaming.
Step #2
Remove rubber lip
The rubber lip is easily removed, allowing you to put the small microfiber cloth over the fabric tool.
Step #3
Steam curtains from top to bottom
When steaming curtains, work your way down from the top of the curtains to the bottom, being sure to pull taut as you go. I go over each section 2-3 times.
Step #4
Notice the difference and repeat

Look at the difference on the side hem here.
It's really that simple. Steam and repeat! With the 32 ounces of distilled water I used, I steamed two curtain panels and one side chair and still hadn't run out of time.
Step #5
Turn off the steamer and empty it

Once you're done, simply turn the unit off and allow it to cool completely before dissembling the attachments. I always empty any water out before storing as well.
Not only is steaming the wrinkles out much easier (and more enjoyable) than ironing, it leaves me with a FEELING of clean. And that's a nice feeling to have. 😊
This sponsored post was created by The Honeycomb Home. Head to the blog for the full post and details.
Step #6
---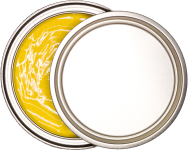 Download Project Steps & Shopping List
We'll never share your email with anyone else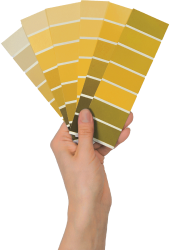 ---
Products Used
---