Overview
Thank you to Wagner for sponsoring this post. As always all opinions are my own.
Hello and Happy June! Posting was sparse here in May but it was SUCH a busy month! Sports, and dance recitals, and school activities, there was just so much to keep track of! Thank you all for sticking with me through the slow posting months and still stopping by and reading! I truly appreciate you all!
---
Plain patio

As we kick off summer, we are so excited to have our patio finished to enjoy all summertime long! Last year we had a slate patio put in in our back yard and we loved using it throughout August and September. We are looking forward to enjoying it for a full summer so it is time to furnish this bad boy will some patio furniture! We used what we had from this budget backyard makeover from a few years ago but our beloved Adirondack chairs needed some serious TLC after two winters spent in our garage.
Step #1
Chairs need a little TLC
Solid wood adirondack chairs are not cheap so I knew that I wanted to just update the ones we already had. A few years ago I had spray painted these the lime green color that you see in the before photos, but like 8 cans of spray paint later and I still didn't cover them! I knew I needed to go a more economical route this time, and since I had such great results with my Wagner Flexio 3000 on my hutch makeover, I knew it would be perfect for repainting these chairs.
Step #2
Easy steps for painting furniture with Flexio 3000
Here are the easy steps I follow when painting furniture with a FLEXiO 3000 paint sprayer.
Check furniture for chipped paint, rough spots, etc. If you find any, do a light sanding to remove. I recommend this hand sander for quick sanding!
Clean furniture well. Remove all dust, dirt, and loose pieces. Do not skip this step!
Place furniture in a well ventilated area, preferably outside, on top of a drop cloth.
Choose between the small Detail Finish paint sprayer nozzle or the larger iSpray nozzle. I used the iSpray nozzle for this project.
Follow the package instructions to attach the nozzle. Changing attachments are super easy with this sprayer!
Fill the canister with your desired paint. Note that the better quality paint you use, the better results you will have. I would not skimp here!
Spray furniture with even, quick coats. If you have any drips, smooth out quickly with a paint brush.
Let dry and then repeat coats as needed.
Step #3
Pop of color

I love these pillows purchased from Lowe's a few years ago, so wanted to work off those colors. This dark blue color really pops and looks so nice with the other colors of our back patio.
We couldn't be happier with the patio and love that it gives us almost an extra living room during warmer weather!
Step #4
More info
This sponsored post was created by Old House to New Home. Head to the blog for the full post and details.
Step #5
---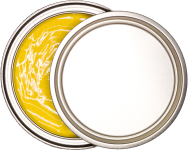 Download Project Steps & Shopping List
We'll never share your email with anyone else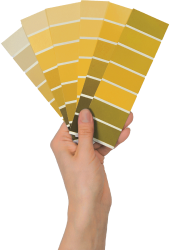 ---
Products Used
---