FURNO 300 Heat Gun
The FURNO 300 dual-temperature heat gun is a basic tool that can be used for dozens of applications that require heat, including stripping paint.
Videos
Features
Two temperature settings: 750°F and 1100°F
1200 Watts/4100 BTUs
Ergonomic design for comfort and balance to reduce fatigue
Side bars prevent the hot nozzle from touching the work surface
Integrated stand for safe hands-free operation
Hanging loop for storage
Projects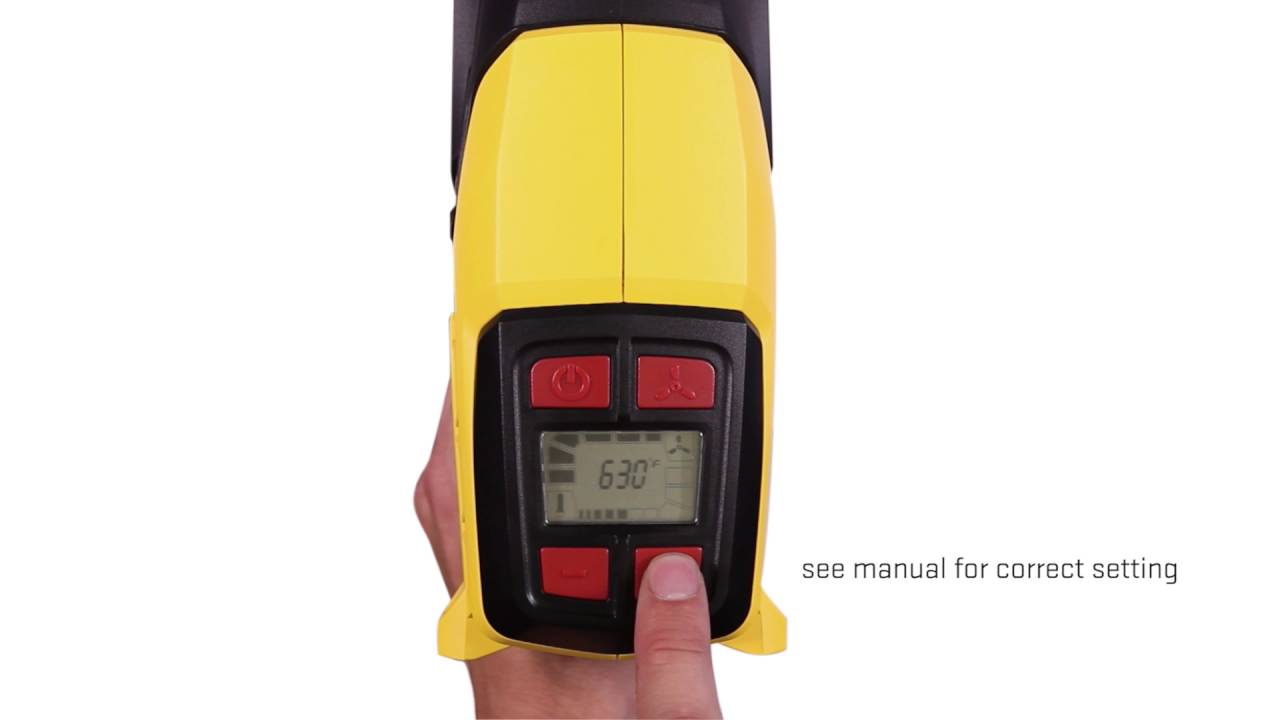 Parts and Accessories
Furno300
is rated out of
5
by
19
.
Rated

5

out of

5
by
Birdie
from
Works Great
I'm very happy with my purchase. It's very easy to use, does exactly what it says it will. It was also packaged well and arrived on time.
Date published: 2018-05-31
Rated

5

out of

5
by
DeWayne
from
Ease of use
We purchased this one about 3 months ago because the one we had broke (another manufacturer). I am so glad we did, this one is easy to use and affordable. We are looking at purchasing a 2nd one to have on hand.
Date published: 2018-05-30
Rated

5

out of

5
by
RoyR
from
It was perfect for solving my project.
I needed to get some "glue gun glue globs" off a string of fairy lights. (A very bad first installation attempt.) My main concern was melting the glue without melting the copper wiring. These lights are very fragile to begin with, and keeping them intact and in working condition was critical. TaDa! It worked perfectly! The Furno 300 heat gun melted the glue in about five seconds and the glue just dropped right off the wires. No harm at all to the fragile copper wires! It did exactly as I had hoped for on this project. Now I have a new tool to tackle a couple more projects that I have been putting off. The picture shows the globs on the bottom row with the top row globs removed and reapplied more efficiently. Thank you Wagner!
Date published: 2018-05-29
Rated

5

out of

5
by
DerekDoesDIY
from
So many uses!!
Over the last year I have really gotten into restoring and/or painting furniture ... everything really. Lol. I came across the Wagner Furno300 and figured it couldn't hurt since the price was so reasonable. This has made my work so much easier. Due to living in Midtown Atlanta, I have space issues and must work on my front porch making my projects prone to cold weather, pollen, insects, etc. Now I can dry the paint just enough so nothing will stick to it and at the same time the movinghot air keeps particulate and insects away from my project. Love the Wagner Furno300!!
Date published: 2018-05-01
Rated

5

out of

5
by
Philucille
from
Tool of choice
Obtain 2 month ago endless uses for this tool My wife also uses it for acrilic pour painting to stimulate cell production
Date published: 2018-04-19
Rated

5

out of

5
by
LoganK
from
Great look and feel, works great.
This is the 3rd Wagner heat gun I have owned and it is my favorite on in terms of look and feel. It has a very sleek and balanced feel to it instead of being bulky and unbalanced. This will work great for most things you would ever need a heat gun for.
Date published: 2017-12-27
Rated

4

out of

5
by
smelly
from
great overall performance.
the furno300 works great! it's quiet and it switches from low to high smoothly. the heat settings on low and high has awesome heat.thank you for this awesome product.products like this is what gives wagner it's great reputation!
Date published: 2017-12-13
Rated

5

out of

5
by
expo1131
from
Five Stars !
I have used this many times and and have not been disappointed.It heats up nicely and provides a steady heat .The 2 temperature setting are perfect for many projects .The gun is sturdy and well made and is very comfortable in your hand while using it.I would highly recommend this product.
Date published: 2017-12-08
Can this heat gun operate on 240vac?
No, all the Furno heat guns in North America work on standard 110 volt AC outlets. For further information you can contact our Technical Service at 800-328-8251, thanks for contacting Wagner!
Date published: 2018-07-05
Can I buy replacement parts for the furno300? I'm talking about the black shroud covering the nozzle, cords and heating elements.
The Furno 300 does not have replaceable internal parts. We do have replacement electrical cords available, but the heating element is sealed in the heat gun and not replaceable. We do have a terrific warranty and can be reached at 800-328-8251 for help.
Date published: 2018-05-22
How can I get new power cords for the Furno 300?
Give us a call to place an order at 800-328-8251.
Date published: 2018-05-06
Is the power cable able to be disconnected from the Furno 300 when not in use?
I had tried to remove the power cord& couldn't. I need to take it back because it didn't work for my project. 
Date published: 2018-04-05
I pulled it out of the box, connected the power cord, plugged it in to the wall outlet, powered it on, it smoked, as the instructions said it would, and ran for about 1 minute before it shut off. Did this twice, now won't power on.
I'm sorry you had problems with your Furno 300 heat gun. Please feel free to call us at 1-800-328-8251 and we will assist you.
Date published: 2018-01-26