FURNO 300 Heat Gun
The FURNO 300 dual-temperature heat gun is a basic tool that can be used for dozens of applications that require heat, including stripping paint.
Videos
Features
Two temperature settings: 750°F and 1100°F
1200 Watts/4100 BTUs
Ergonomic design for comfort and balance to reduce fatigue
Side bars prevent the hot nozzle from touching the work surface
Integrated stand for safe hands-free operation
Hanging loop for storage
Download Manual
Projects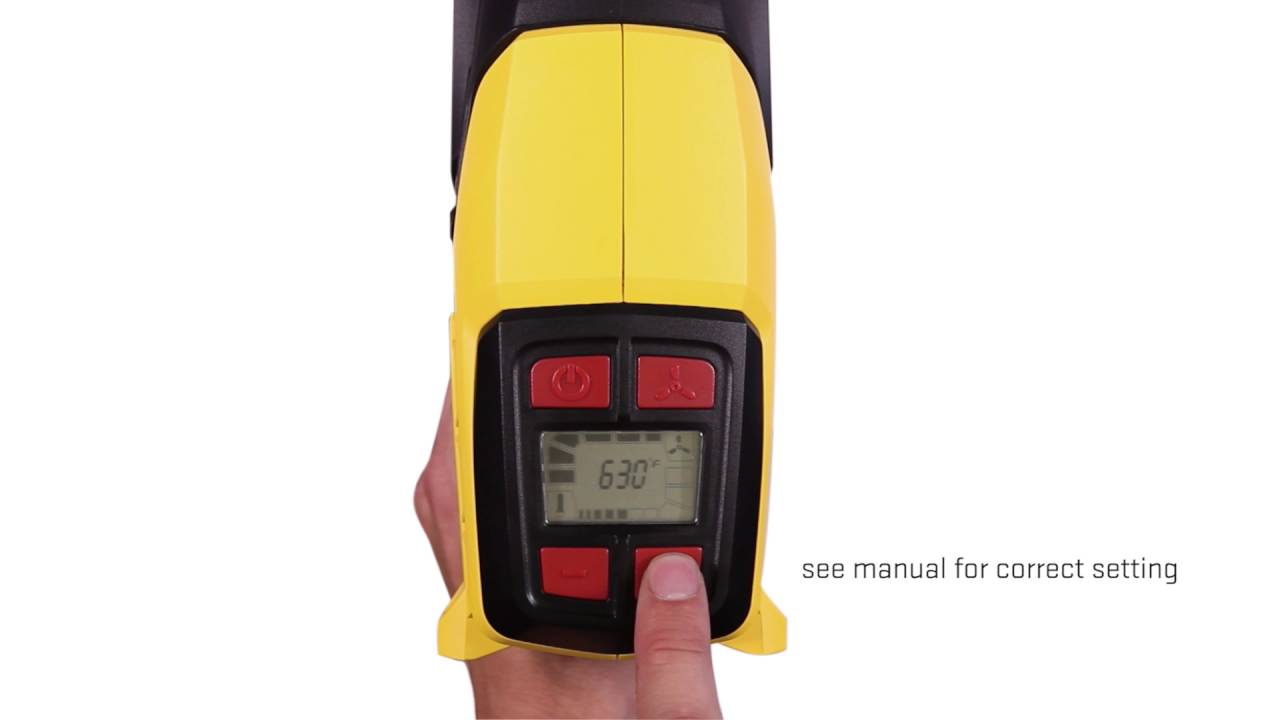 Parts and Accessories
Furno300
is rated out of
5
by
14
.
Rated

5

out of

5
by
LoganK
from
Great look and feel, works great.
This is the 3rd Wagner heat gun I have owned and it is my favorite on in terms of look and feel. It has a very sleek and balanced feel to it instead of being bulky and unbalanced. This will work great for most things you would ever need a heat gun for.
Date published: 2017-12-27
Rated

4

out of

5
by
smelly
from
great overall performance.
the furno300 works great! it's quiet and it switches from low to high smoothly. the heat settings on low and high has awesome heat.thank you for this awesome product.products like this is what gives wagner it's great reputation!
Date published: 2017-12-13
Rated

5

out of

5
by
expo1131
from
Five Stars !
I have used this many times and and have not been disappointed.It heats up nicely and provides a steady heat .The 2 temperature setting are perfect for many projects .The gun is sturdy and well made and is very comfortable in your hand while using it.I would highly recommend this product.
Date published: 2017-12-08
Rated

5

out of

5
by
TAC50
from
A professional-grade tool
I really like the Furno 330 heat gun. Although it is the least expensive of the four Wagner Furno heat guns, it has two heat settings: 750F and 1100F (HOT and VERY HOT!) I could not hold my hand any closer than 18 inches away. I highly recommend wearing protective gloves. It has an integrated stand for hands-free operation and an innovative, detachable power cord with a hanging loop for storage. It just feels like a professional-grade tool. I have used it around the house for DIY projects and to heat-shrink tubing on a desktop computer I recently built.
Date published: 2017-12-07
Rated

4

out of

5
by
Tom547
from
Very good heat gun
I am impressed with the quality of construction of the Wagner Furno 300. The AC cord clicks in place and becomes the base so heat gun stands upright after use. Handle is comfortable and heat gun is lightweight. Nice rubberized shield near tip to keep body cool. Switch can be hard to use is the only negative.
Date published: 2017-12-07
Rated

5

out of

5
by
Ronican
from
Easy lightweight
I received the Furno300 1 month ago and used it to strip vaneer off of an antique table. It did the job without fail, the grip is fantastic and the stand really comes in handy for hands free work. The table turned out beautiful. This level of heat gun was nice, I would also consider purchasing an upgraded model for more aggressive jobs.
Date published: 2017-12-07
Rated

4

out of

5
by
Drnes2
from
Very useful design!
I like the way this heat gun is designed to stand by itself allowing you to have both hands free to work your project over it. Only had one project to use it on or probably could have been 5 stars. My hobby is woodworking and this tool gives me another option to add the finishing touches to my wood project giving it a rustic darkened look.
Date published: 2017-12-06
Rated

5

out of

5
by
Qdog84
from
WAGNER - FURNO300
I received the Wagner FURNO300 approximately four (4) weeks ago. This item is absolutely incredible. I was having trouble removing lug nuts from my tractor. I used the FURNO300 and the lugs came off. In the summer my wife will be using it to remove paint from our porch. I also have a water pipe that freezes every year. It usually takes about 15 - 30 minutes to warm it up with a hair dryer. I look forward to using the FURNO300 to take care of that problem much quicker. I highly recommend this product. It is very easy and safe to use. The potential for the use of this product is unlimited. Make sure you pick one of these up for the family. You will not be disappointed.
Date published: 2017-12-03
I pulled it out of the box, connected the power cord, plugged it in to the wall outlet, powered it on, it smoked, as the instructions said it would, and ran for about 1 minute before it shut off. Did this twice, now won't power on.
I'm sorry you had problems with your Furno 300 heat gun. Please feel free to call us at 1-800-328-8251 and we will assist you.
Date published: 2018-01-26
Is the power cable able to be disconnected from the Furno 300 when not in use?
Once the cord is attached to the Furno units it is designed to stay attached. Please contact our technical support staff at 1(800)328-8251 if you have any other questions or needs.
Date published: 2018-01-15