Overview
Refreshing your exterior trim with a new coat of paint is an easy weekend job and it'll give you a crisp new look and lots of curb appeal! You'll get it done fast with professional looking results using a FLEXiO 3500 paint sprayer.
Before
After
---
Instructions
GATHER YOUR MATERIALS
Start by gathering your materials. For this project you'll need:

FLEXiO 3500 Paint Sprayer
Exterior paint and primer (enough for two coats)
Paper or plastic sheeting
Painters' tape
Canvas drop cloths
Dust mask
Safety glasses
Step #1
PREPARE THE SURFACE
Before painting the trim, make sure you've scraped off any loose paint and spot primed any bare wood. Also be sure to fill any gaps with exterior caulking.
Step #2
MASK OFF THE SIDING
Cover the area around the trim with paper or plastic so you only get paint on the trim. Cover anything else that you don't want to accidentally get paint on such as shrubs, grass or windows.
Step #3
PRACTICE YOUR SPRAY PATTERN
Prepare your FLEXiO 3500 sprayer for spraying by practicing on a piece of cardboard. When spraying exterior trim, we recommend using the iSpray nozzle which is great for spraying thicker exterior paints on outdoor surfaces. Adjust your air flow, material flow and spray width until you're satisfied with the spray pattern.
Step #4
START PAINTING
Start on the upper trim and work your way down to the lower trim to avoid bumping your ladder or touching the freshly painted trim.
If you have wood trim, make sure to spray in the direction of the wood grain. You can change the spray pattern from horizontal to vertical and back again by adjusting the front nozzle.
Step #5
SPRAY ALL THE TRIM
Remember to keep your sprayer 6-8 inches away from the surface to ensure even coverage and minimum overspray. Wipe off the tip with a damp rag every few minutes to keep the tip from clogging with paint.
Step #6
ENJOY YOUR NEW TRIM
Your house will look so much better with freshly painted trim, plus you'll instantly boost your curb appeal.
Step #7
---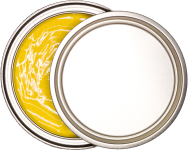 Download Project Steps & Shopping List
We'll never share your email with anyone else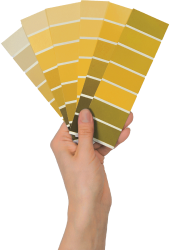 ---
Products Used
---