MINNEAPOLIS — July 10, 2023 — Wagner® SprayTech, a market leader in advanced paint applicators and tools, announced today the FLEXiO 3550 18V, Wagners' first cordless paint and stain sprayer.
"The FLEXiO 3550 18V provides ultimate portability and the ability to spray paints and stains in any location," said Jon Beaton, vice president of Product Management at Wagner. "This new sprayer provides more freedom and flexibility than a corded sprayer so you can spray objects not easily accessed with a corded sprayer, such as children's outdoor playsets, fences around the yard, gazebos and more."
The FLEXiO 3550 18V delivers a smooth, consistent finish with most unthinned paints and stains. A single charge of the 18V 2.0 Ah lithium-ion battery provides sufficient power to paint two 8 x 8-foot walls or stain a 40 x 6-foot fence. The battery and sprayer have charge-status indicators for quick reference of battery usage.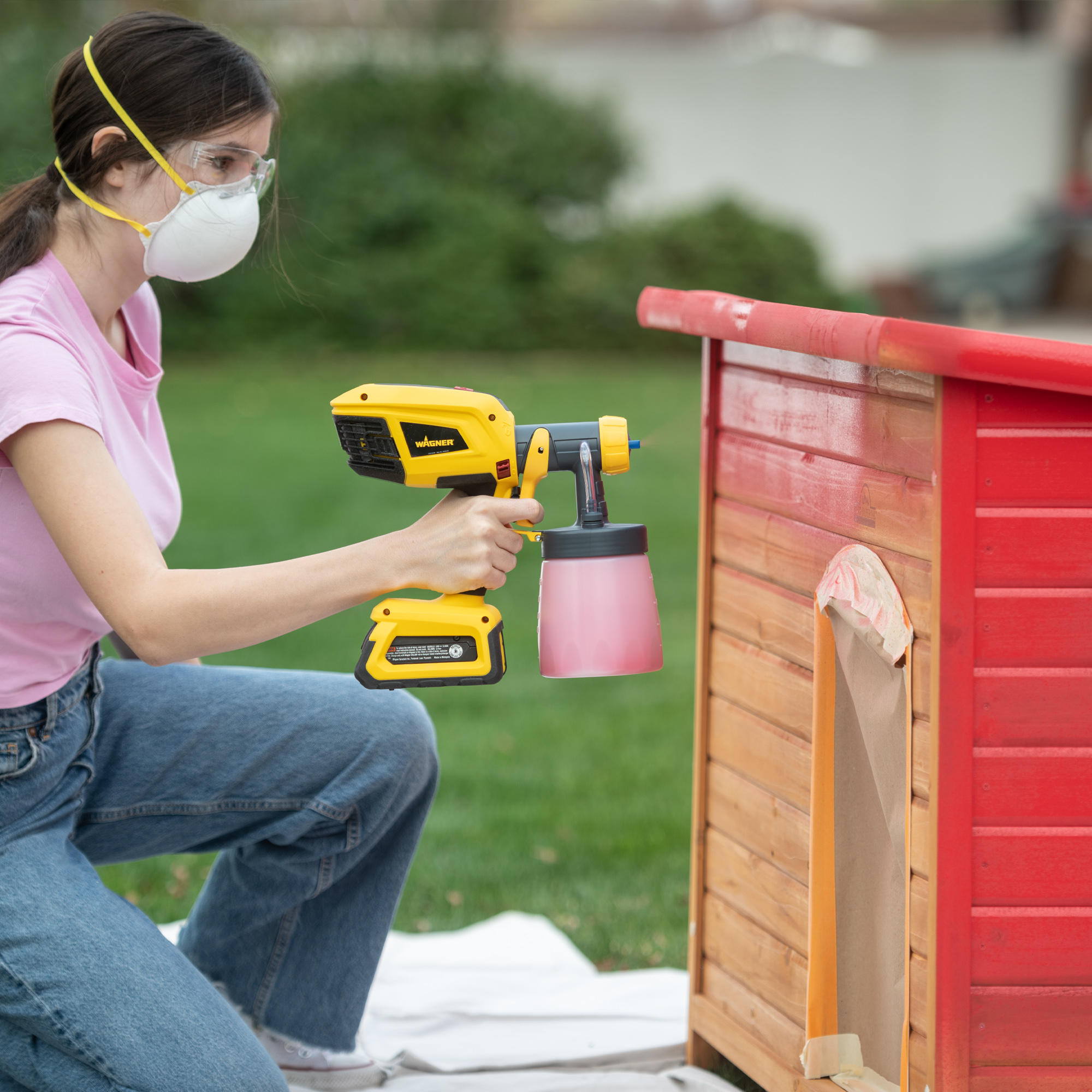 Like the other versatile sprayers in the FLEXiO series, the FLEXiO 3550 18V features multiple adjustable settings, including an adjustable flow control, spray width, spray pattern and variable speed power settings displayed on the LED panel. It comes standard with two nozzles: the iSpray nozzle for spraying broad surfaces like small sheds and fences that aren't near outlets, and a Detail Finish nozzle for spraying a smooth, fine finish on projects such as light touch-ups on trim or furniture.
FLEXiO 3550 18V product highlights:
Battery-powered sprayer can go places a corded sprayer cannot
Includes 18V 2.0 Ah lithium-ion battery and charging station
Weighs only 3.1 pounds including the 2.0 Ah battery
Integrated battery cage to ensure the battery holds stable
Sprayer and battery have charge status indicators for quick reference
Includes iSpray nozzle with 1.5-quart cup and Detail Finish nozzle with 20 oz. cup
Lock-N-Go technology allows for easy color changes and clean-up
Multiple adjustable settings to suit project needs
The FLEXiO 3550 18V cordless sprayer is currently available instore and online at The Home Depot. MSRP is $299.99.
About Wagner SprayTech
Established in 1973, Minneapolis-based Wagner SprayTech Corp. is a wholly-owned subsidiary of Wagner Holdings, Inc. A long-standing industry leader, Wagner SprayTech develops, manufactures and markets a wide array of paint sprayers, applicators and decorating products for home improvement, commercial painting and industrial coating applications. With a legacy of product innovation, advanced engineering, quality manufacturing and exceptional customer service, Wagner products make it easier and faster to prepare surfaces, apply paints and other coatings, and clean up when the job is done. For more information, visit www.wagnerspraytech.com, youtube.com/WagnerPainting or follow @WagnerSprayTech on Instagram and @WagnerPainting on Facebook.