Overview
Hey everyone, this is Lindi and Russ from Love Create Celebrate. We've renovated houses from top to bottom, but this is our first time tackling a moving vehicle! We're renovating our family RV on a budget and taking it from outdated to modern and making the whole space more functional for our family.
Before
After
---
Instructions
Step 1
The biggest changes we needed to make were adding new flooring, painting all of the kitchen cabinets, and adding a new countertop and backsplash. We started with the flooring and put some vinyl plank boards down over the existing laminate. It was a quick and easy upgrade that made a huge difference!
1
Step 2
Next, we took out all of the cabinet fronts, drawer fronts, and upper cabinets. Removing them from the RV meant that we could use our Wagner FLEXiO 3500 with the detail finish nozzle to get the job done quickly and easily!
2
Step 3
We painted the few remaining cabinets inside the RV by hand, since we had previously sprayed all of the RV walls with fresh paint. Then sprayed all of the remaining cabinets and doors with a beautiful green colour to match the rest of the RV colour palette. The paint sprayer made quick work of the job, allowing us to get a smooth, even finish with one sprayed on coat.
3
Step 4
Unfortunately, for our timelines and our sanity, I decided to change the paint colour after the first coat was done! The colour we had originally chosen just didn't look right in the space, and now was the time to change it. Luckily, nothing was installed yet, and the paint sprayer worked quickly and easily to get that second colour on!
4
Step 5
We also decided to tackle some DIY countertops with laminate, and to take the laminate up the walls for a cohesive, modern look. The green cabinet colour looked amazing with the laminate we chose and now we're both extremely excited to see the rest of the RV space come together!
5
Step 6
Check out more of our RV remodel, including our painted appliances, hidden sink, and modern accessories, on our blog and YouTube channel, Lindi & Russ.
6
---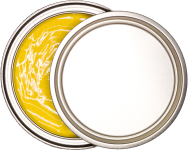 Download Project Steps & Shopping List
We'll never share your email with anyone else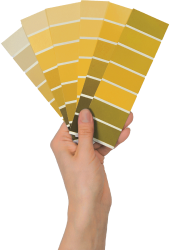 ---
Products Used
---